Pharmacy Shopping Cart
Your shopping cart is empty.
Subtotal
$0.00 USD
Shipping
$0.00 USD
Total:
$0.00 USD
View / Checkout
Jan Drugs Pharmacy Accreditations
Jan Drugs is committed to providing safe and affordable prescription drugs for every one of our patients. We maintain strong safety standards and hold all our patients' information in complete confidence. Jan Drugs' commitment to excellence in safety, security and affordability is backed up by our membership in several third party verification organizations. They are the Canadian International Pharmacy Association (CIPA), the Manitoba International Pharmacists Association (MIPA), and we are rated a 5 star pharmacy by PharmacyChecker.com.
---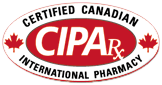 CIPA
The Canadian International Pharmacy Association (CIPA) created in November, 2002, is an organization who represents the Canadian International Pharmacy Industry. Our presence is to represent and support the ethical and professional practice of International Pharmacy, and to ensure the highest standards of practice are carried out by its members. CIPA promotes the growth and viability of the Canadian pharmacies that provide international services, as well as to provide a unified voice to address the challenges facing the industry at large.
---
PharmacyChecker.com
PharmacyChecker.com LLC ("PC") collects, evaluates, and reports credentials, prices, and customer feedback regarding pharmacies that operate online and through mail-order and fax (generally referred to as "online pharmacies").
---
Manitoba International Pharmacists Association
The Manitoba International Pharmacists Association is a Provincial organization of licensed pharmacists, pharmacy students and others dedicated on a global basis to the provision of safe and affordable medications for the improvement of health and well being of individuals of all ages from around the world as well as assisting its members and enhancing the profession of pharmacy.